Hot Dip Galvanizing Unit
we are involved in manufacturing and supplying a supreme quality range of Hot Dip Galvanizing Unit in Khopoli.The hot-dip galvanizing process protects steel from effects of corrosion. The steel with a thin layer of zinc or iron alloy is coated for enhancing its life. We use right mix of zinc and steel for avoiding wastage of energy and raw material.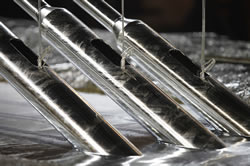 Application of Hot-Dip Galvanizing size is 6.5 mtrs
Reduces Maintenance.
Increases life of Products.
Cuts off Painting cost
Hot-Dip Galvanizing can be applied to :
Pipe.
Plate
Poles
Metal Beam Crash Barriers
Tubes
Nut & Bolts etc.